A Walk in the Park : Danial Kushairi's 1st Solo Art Exhibition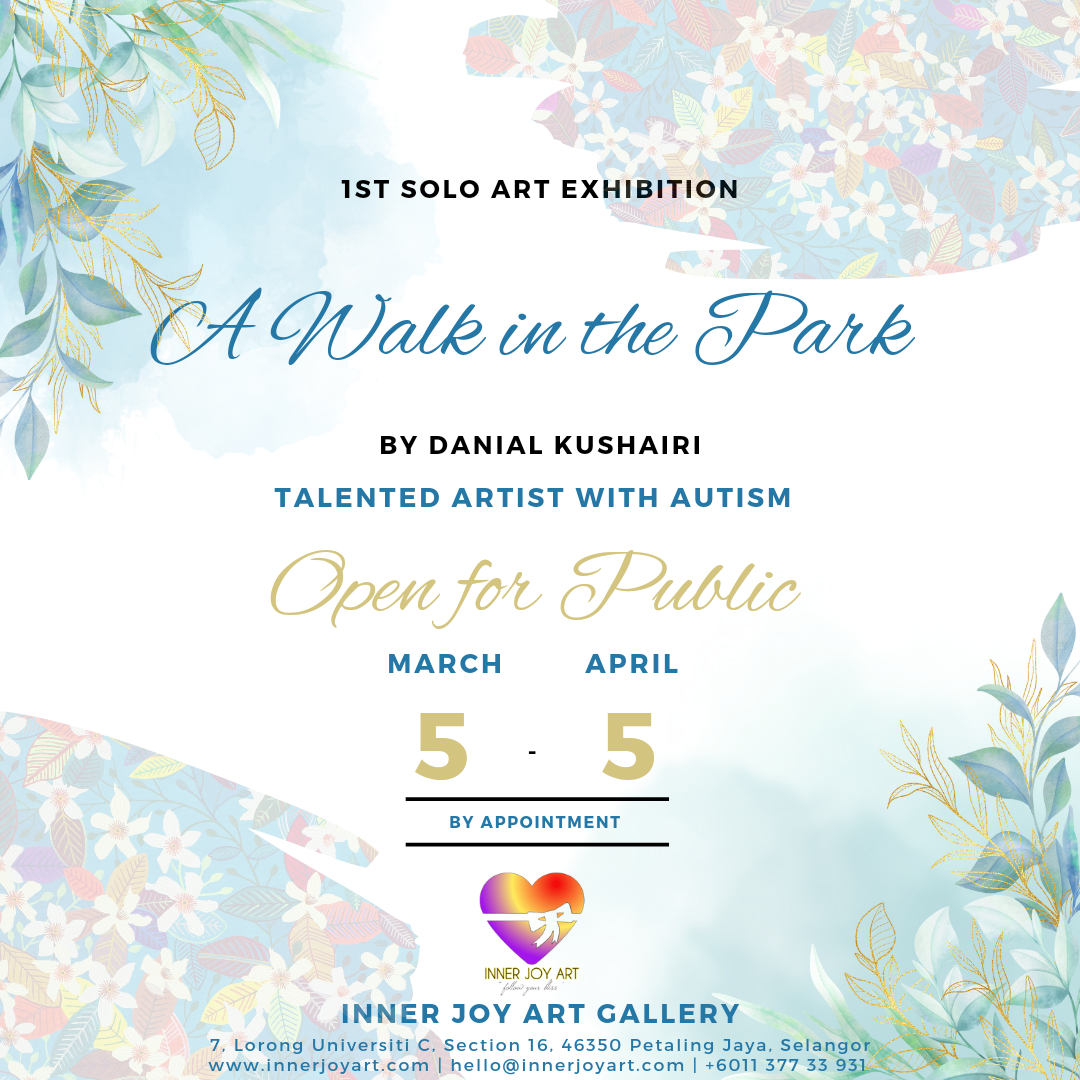 A Walk in the Park
Solo Art Exhibition by Danial Kushairi
5 March - 5 April 2023
"A Walk in the Park" is a unique art exhibition that aims to engage viewers with nature through the eyes, heart and non-verbal expressions of Danial Kushairi, an artist with autism.
The dates chosen for this exhibition also coincide with the World Autism Awareness Day which falls on 2 April 2023. Hence, we hope that this exhibition helps with further recognition and the spreading of awareness for the rights and inclusivity of people with autism.
"A Walk in the Park" is Danial Kushairi's 1st solo art exhibition since he started to publicly exhibit his artworks through various group exhibitions from 2019 onwards. This exhibition is inspired by Danial's natural surroundings; gardens, flowers, plants and animals.
This exhibition will be officially launched on 5 March 2023 at 3.00 pm by Prof. Madya Hasnul Jamal bin Saidon, Director of Tuanku Fauziah Museum & Gallery USM. During the opening ceremony, Danial Kushairi will be giving a speech too, followed by Danial's mother, Puan Rohani Ahmad.
Curated by Dymphna Lanjuran of Inner Joy Art Gallery, this exhibition highlights the pure and joyful soul of Danial through his beautiful expression of art, inspired by natural surroundings that he finds peaceful. In his own extraordinary way, Danial's artworks will immerse us with various herbal trees, unique magnificent flowers, colourful leaves, a garden full of multiple types of vibrant flower, ponds and other interesting creatures of nature artfully connected, entertwined and co-exist with one another.
Collectors and art lovers who are familiar with Danial's works may be able to recognise Danial's unique way of playing with composition of subject matters on canvasses, harmonised through Danial's playful strokes of the brush and acrylic markers, subtle textures and radiant colours that captivate the eyes and hearts of viewers - that's the magical touch and unique ability of Danial, a talented artist with autism.
Diagnosed with autism at the age of 2, Danial's love for art and creativity started to show through his natural interest in doodling and drawing since he was small. This talent was then sharpened and expanded more in 2019 when Danial, at 16 years old back then, joined his 1st group art exhibition. With more and more recognition of Danial's talent from the public that viewed Danial's artworks since then, together with the continuous support from his family, Danial's passion in art continues to grow exponentially.
Being an artist with autism, Danial has extreme fixation on his work and thrived on strict routines. While Danial finds it challenging to emotionally expressed himself through social interactions, his ability to express himself through art knows no boundaries! From abstract expressionism, to cubism, to naive art, to surrealism, Danial's art journey is truly a joy to experience.
"A Walk in the Park", while describing the natural surroundings that inspired Danial's artworks in this solo exhibition, this is also in actual fact a description of Danial's experience of his inward journey in the growth of his art since 2019. While others may view Danial's condition with autism as 'special' and challenging, having found the space to grow his inherent love for art and nature has given Danial that peaceful resonance and pleasure which enables Danial to continue growing and flourishing like those well-watered plants in their thriving natural surroundings.
For this solo exhibition to materialise, Danial was required to be super-disciplined, and he has created 18 new range of artworks since May 2022, different from what he has ever showcased before. May Danial's solo exhibition be an inspiration to many, that with a highly disciplined and supported environment, an individual with a learning disability too can develop their best talent.
With that, we at Inner Joy Art Gallery, together with the family of Danial Kushairi, would like to present Danial's 1st solo art exhibition, "A Walk in the Park" as a gift and an expression of thank you to all of you for being part of Danial's journey. We hope all of you will continue to enjoy this 'walk' with Danial.
Commencing from 5th March onwards, Danial's 1st solo art exhibition of 18 pieces of artworks on huge canvases will be opened for public viewing and visits at Inner Joy Art Gallery, Section 16 Petaling Jaya, Selangor, Malaysia. Please make an appointment before your visit by dropping a message to 011 377 33 931 or email us at hello@innerjoyart.com.
Entrance is free. Virtual viewing and option to purchase the artworks through the gallery website, https://www.innerjoyart.com will also be available from 5th March onwards.
We invite you to step into this exhibition with an open heart, and may you too be able to find that inherent joy that enables you to continue to flourish with inward peace and pleasure as you grow through life. Do enjoy your walk in the park too!
Warm regards,
Dymphna Lanjuran
Art Director & Artist Curator
Inner Joy Art Gallery