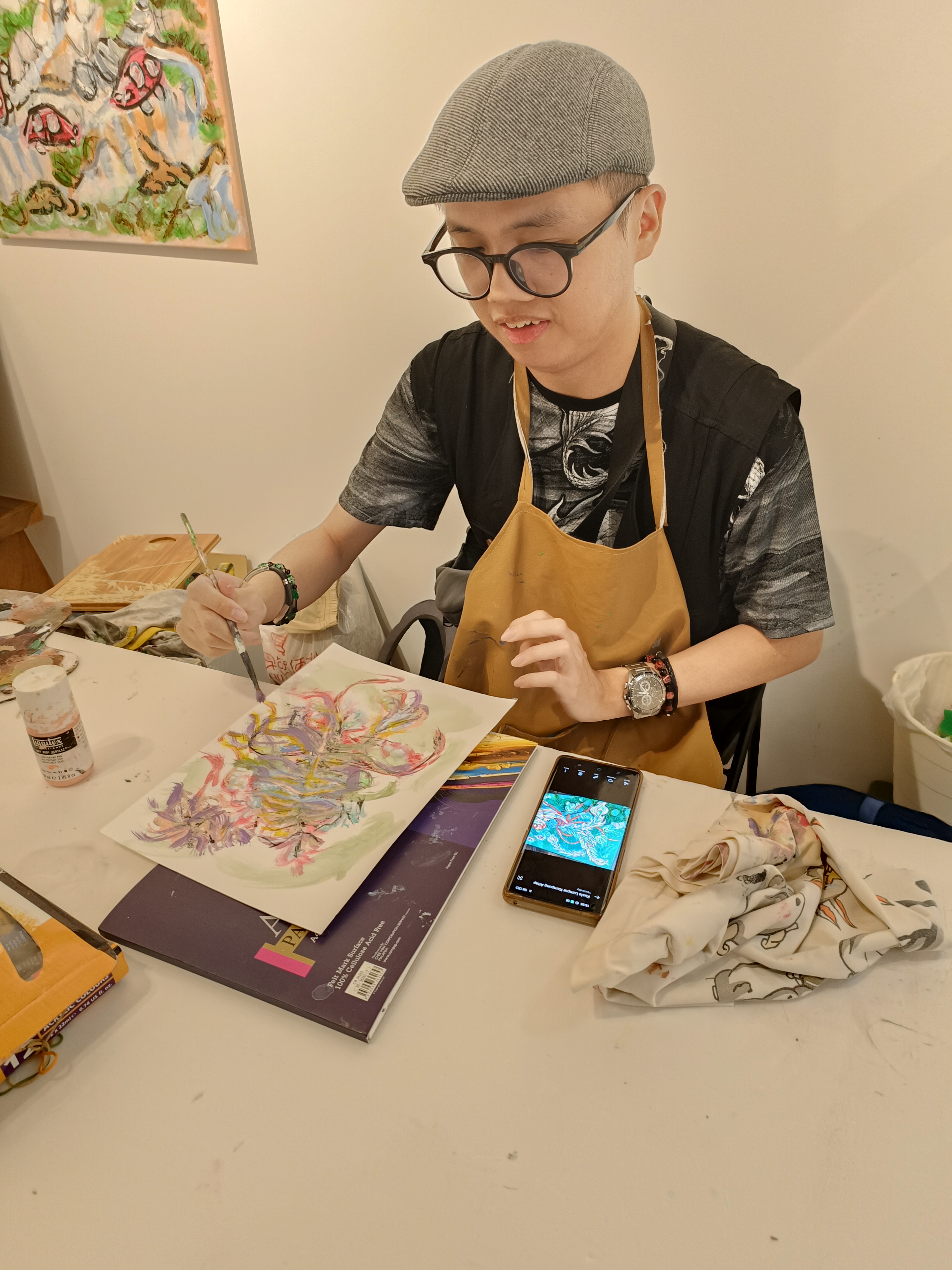 Ng Yi Shen was born in 1991, in Penang, Malaysia.
His artistic journey serves as a testament to the remarkable power of self-discovery and unwavering determination.
He is an emerging artist who has made significant strides despite facing developmental challenges like autism and slow learning. During his primary school years, he frequently found himself engrossed in drawing rather than paying full attention to the lessons being taught in the classroom. However, as he matured, his passion for art gradually solidified.
He successfully completed Bachelor of Arts in Liberal Studies with honors, a milestone that bolstered himself-assurance and courage. This achievement also facilitated improved socialization and communication skills, allowing him to connect more effectively with people.
His artistic creations have been showcased both online and in physical exhibitions, including the United States, Italy, China, Hong Kong, India, the Philippines, and various states in Malaysia. These experiences have contributed significantly to his personal growth, enhancing his maturity, confidence, and composure.
"Blending life harmoniously in my artistic works." - Ng Yi Shen
Past Exhibitions :
2019, Exhibition at Mmall , Penang
2019, Pameran Kenali China dan Majilis Pelancaran Buku at Mydin Mall, Subang Jaya
2020, Rat exhibition at Island Gallery, Penang
2020, Satu Masterpiece at Galeri Shah Alam
2020, A Trace at Zheng Ho Duo Yun Xuan, Melaka
2020, Beyond 2020 at Penang State Gallery
2020, Waste to Art (The Miracle Touch) at National Art Gallery Malaysia
2020, Ocean Call at Island Gallery, Penang
2020, R&F Mall Nation Day Art Exhibition
2021, Oriental Charm at Gurney, Paragon Mall, Penang
2022, Malaysia Artist Society exhibition (Johor, KL, Penang)
2022, The India online Artshow (VAS International Artist Group)
2022, UBAK (use + back) Eco Mosaic Art (18.01.2022)
2021, Selected to "Anak Syurga" Exhibition, Italy
2022 Amari Spice Hotel
2022 Healthy Forest Happy Wildlife Art Exhibition
2022 The 5th Qingdao Imternational Contemporary 2022
2022 Langkawi International Art Tourism (30 Aug – 4 Sept 2022)
2022 Art Connect 2.0 (International Art Exhibition 2022 I Sabah)
2022 Creativespace Affordable Art @ WTCKL ( 30th Sept to 13th Oct)
2023 LeonArt International Group online
2023 Anak Syurga Exhibition @ Avenue K ( March 2023)
2023 IM More The Tiger of Malaysia Exhibition at Italy (March 2023)
2023 Safety First Exhibition @ KL City Art Gallery (May 21 – 28 2023)
2023 Heritage Exhibition @ Four Season Place
2023 Exhibition at Parliament Kuala Lumpur
2023 Exhibition at Menara KPJ (KL)
2023 Exhibition at Intermark Mall (Breast Cancer Awareness Month)