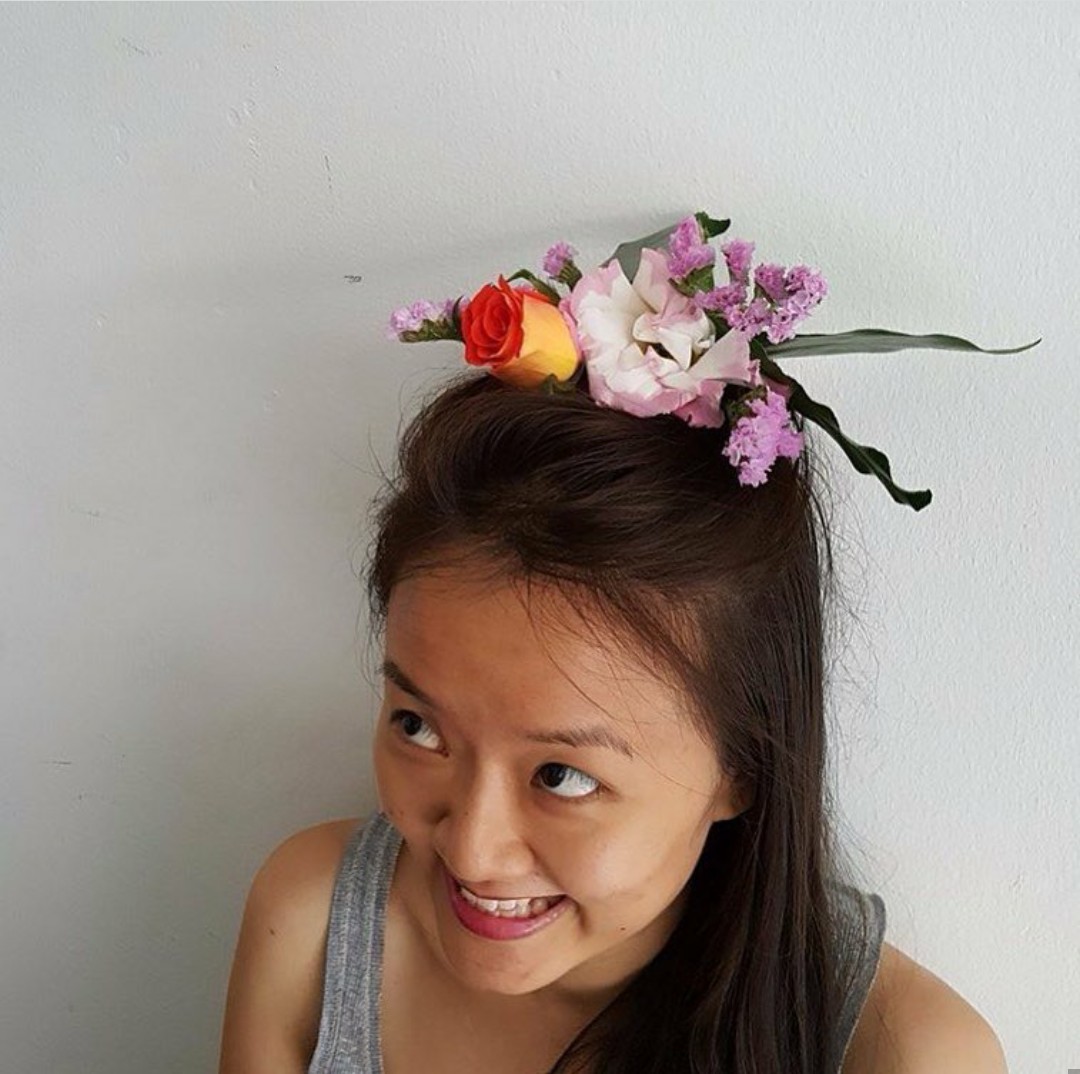 Sin Kae Miin grew up living in the plantations of Malaysia. She went to school in Kuala Lipis, Ipoh, then Paloh, Johor.
She graduated with a Diploma in Illustration at The One Academy, Communication Arts in 2006. She has since done various jobs - some art related, while a few were not, such as designed bedsheets, wait tables, served as an art instructor for 8 years at an art center, made bouquets at a flower delivery company, guided art jams, and sold some frozen seafood with her fishmonger brother. Currently, she accepts painting jobs and would offer painting sessions at a Minimart when the pandemic situation renders it safer to do so.
"I love life's little discoveries, finding something unusual in ordinary things if we slowed down to observe and listen. Art is always there in our lives, whether to remember something beautiful, to capture a feeling, or to express what is hard to do otherwise." - Sin Kae Miin
----
Here's a fun interview with Kae Miin about Dreams (in conjunction with the art exhibition "Dreams : Transcending Physical Reality" in January 2020).
1. What do Dreams mean to you?
I believe that dreams are where our souls go to when we are asleep. Our subconscious minds tells us things that we are not aware of when we are awake. Dreaming of the impossible helps realize the things we thought were impossible.
2. What are your dreams?
I have had many dreams consisting of waters and waves. According to dream analysis, water symbolizes emotions; if the water is clear, your emotion is too. So I'd say my dreams were pretty emotionally charged. Sometimes I could breathe in water, sometimes I would be in a waterproof vessel with larger than life creatures swimming above. In rare dreams, I could fly. However, I also dream of mundane things like getting ready in the morning (haha) only to wake up to have to do it all over again.
3. Are those dreams important to you? Why?
Yes, these dreams are important to me. The dreams I have painted are close to my heart. Some of those dreams feel like time travel, I get to go back to places that are not there anymore, of memories that have shaped me. Some dreams may seem like escapes, but often they were there to help me deal with unresolved issues or suppressed matters in my waking reality; to release pain if not to relief them.
4. How old were you when you first started drawing and painting?
I remember drawing and coloring when I was 4 or 5. My dad got me mahjong papers and markers to doodle with, and my mother got me a lovely big coloring book. I remember painting some trees when I was 8 with my mother's guidance, I started to learn proper painting techniques when I was in secondary school with the guidance of an eccentric art teacher named Mr. Kong.
5. Describe the feelings and thoughts that you have / feel when you're painting or creating art.
The best ideas seem to fade by the second, which is why I get very excited when I have the tools with me to visualize ideas when one pops up. I usually feel a sense of relief when I can channel my emotions into art/fantasy. I feel happy that what one might consider strange in real life can be put into beautiful perspective in art. At the same time, creating art helps us find the magic in ordinary things, things in life we sometimes take for granted. I love being able to get into that zone when reality is overwhelming.
6. Who inspires you the most, and how does that person inspire you?
Author, Neil Gaiman is one of my biggest inspirations, not forgetting all the amazing illustrators of his stories. His stories are of the fantasy genre, but he makes them so vividly real you could quickly imagine yourself in them. I had first stumbled upon his book about 15 years back because of a mysterious cover illustrated by Dave Mc Kean, not knowing that judging a book by its cover would have me finishing the book standing for a whole hour or two in the bookshop. Since then, I've collected all of his fantasy novels because of his amazing story-telling and his ability to personify things like Dream and Death, to be able to show readers the value of friendship, life and sacrifice. I aspire to tell a story like he does, in the form of a painting. It would be amazing to be able draw like one of his amazing illustrators, Chris Riddell, whom brings out the warmth in his beautiful works.
7. Where do you see yourself in 5 years?
I would like to have come up with an illustrated book with some humor. I see myself making art with children. I would like to spend more time in nature, and be with the people I love the most.
8. If you are given a public and global platform to voice out anything that you want to say to the world, what would that be, and why?
Be kind to all living things (including yourself) and continue to spread love.
9. Besides painting, what are other creative talents that you have?
I play the piano sometimes, and I will learn the Kazoo soon!
10. How do you usually enjoy spending your free time?
On a good day I love gathering laughs. On other good days, I draw, paint and swim, or try to learn a new language on my phone. Sometimes I sleep.
11. Do you have a dream journal? If yes, what do you write in your dream journal?
Yes. I try to write down the events of my dream before I forget about them, I try my best to remember the details of the dream; the place, the time, and if there was a song accompanying the dream. Sometimes I sketch them out, sometimes I get poetic. Sometimes it's all just a blur and I could only remember how each dream felt.