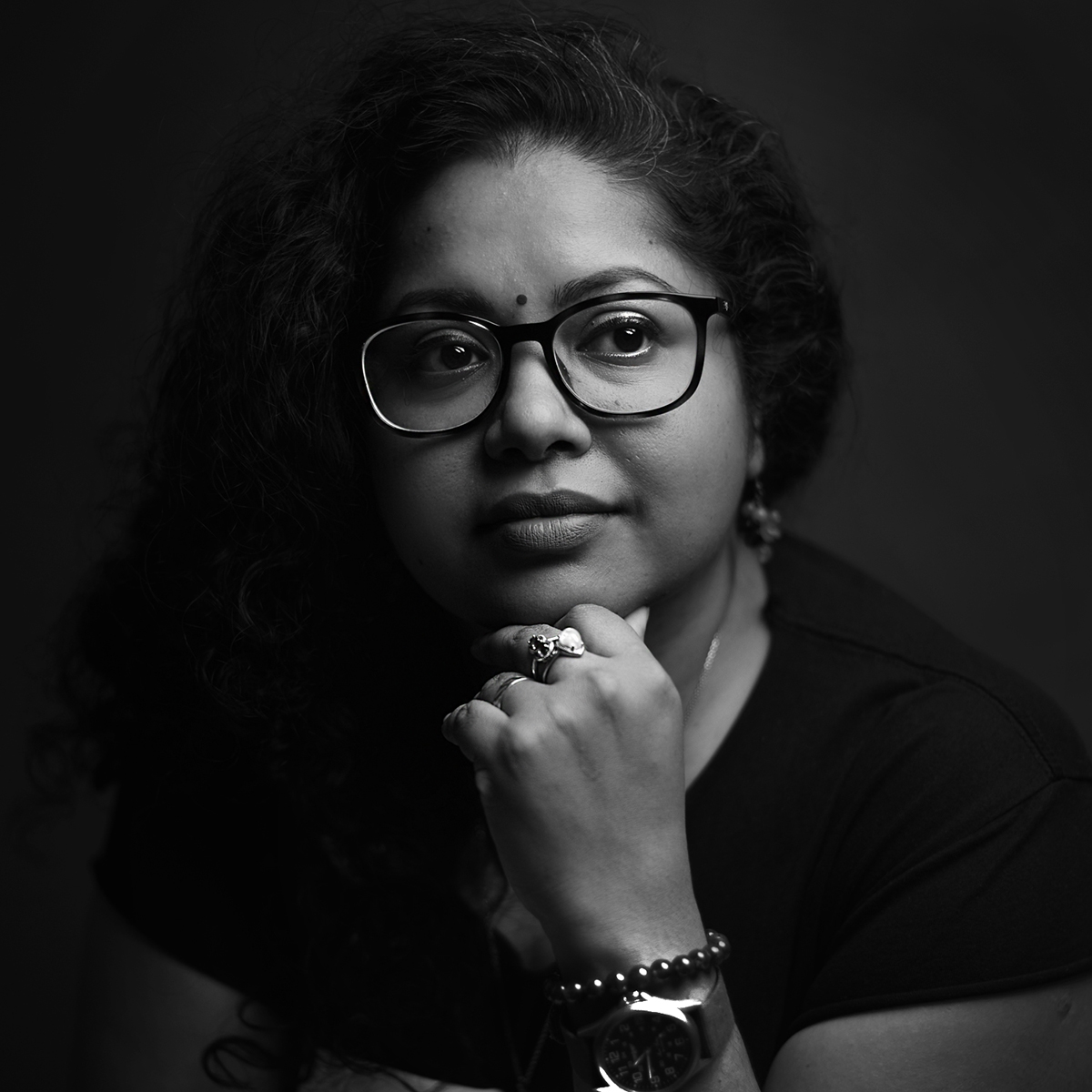 Thineswari Govindasamy (b.1982) is a designer, illustrator and emerging artist of recent. She explores illustrative whimsical art, feminine interpreting and context of fancy supremacies. This very foundation leads her into multidisciplinary art projects societies while pursuing her BA(Hons) Graphic Design at First UC (TNTU, UK).
Prior to years of industry's experience, Thines leaped onto self-established business, which then gave her the liberty to take her illustrations and painting works further. From here, her opportunity to share her artistic beliefs expanded, thus gaining recognition in both local and international art scenes.
Some of her works are part of collections for local galleries and brands like Pepsi, Malaysian Healthcare Travel Council (MHTC) etc. and also to countries like Taiwan, the Philippines, Thailand and India.
"The world is truly more than it seems to be… if you don't go in, you can't find out." - Richard Stine
PAST EXHIBITIONS /ART EVENTS / ART AWARDS:
EXHIBITIONS (RECENT, SELECTED)
· DEC 2021 – GLOW
Online Art Exhibition by Artvoice Gallery, Kuala Lumpur
· NOV 2021 – PAYUNG MERAH BY PERUPA – ART EXHIBITION
Online Art Exhibition, Kuala Lumpur
· AUG 2021 – VIRTUE (AL) 2.0
Online Art Exhibition by ARTSTEPS
· JULY 2021 – ARTVOICE GALLERY 3RD ANNIVERSARY SHOW
Online Art Exhibition, Kuala Lumpur
· SEPT 2020 – KITA JAGA KITA
KL City Art Gallery, Kuala Lumpur
· AUG 2020 – BEYOND 2020
Penang State Art Gallery, Penang
· AUG 2020 – PEPSI MALAYSIA – MERDEKA CAMPAIGN 2020
Hall of Fame (permanent collection), Etika Malaysia
· MAR 2020 – SATU: MASTERPIECE
Gallery Shah Alam, Malaysia
· JAN 2020 – BEAUTIFUL MALAYSIA ART EXHIBITION
Percolator Gallery, Brisbane, Australia
· DEC 2019 – HI IZURU KUNI DE - PEACE AND UNITY THROUGH ART IN JAPAN
WKS Gallery, Osaka, Japan
· OCT 2019 – BANANA LEAF: A CELEBRATION OF MALAYSIAN INDIAN ARTS & CULTURE
GMBB, Kuala Lumpur
· OCT 2019 – P!NK BY PINKTANK.CO
Rumah Tangsi, Kuala Lumpur
· SEPT 2019 – FRIENDSHIP : ART & CONNECTIVITY
Chang Chui Gallery, Bangkok, Thailand
· MAR 2019 - WOMEN DAY ART (III)
Atelier Gallery, Seri Kembangan, Selangor
· NOV 2018 - SYNERGISM MY + PH
Robinson's Galleria, Manila, Philippines
· AUG 2018 - FESTIVAL ANAK MERDEKA
Da Men Gallery Mall, Subang Jaya, Selangor
· FEB 2017 - SHARE MY LOVE
MHTC (permanent collection) Ministry of Health MY, Kuala Lumpur
EXHIBITIONS (mini solo)
· OCT 2015 – RESIDENTIAL COLLECTIVES
Sunflower Cottage, Victoria, Australia
· JUNE 2013 - ART DEPOT COMMUNITIVE
Private Residence SS2, Petaling Jaya, Selangor
AWARDS
· FEB 2020 – FINALIST
Art Battle (Woman's March MY) – Asia's First Speed Art Competition
· JAN 2019 - HONORABLE MENTION
Asia Illustrators Collection, Taiwan
· MAR 2018 – WINNER, LISTED 250 ASIA ARTIST ILLUSTRATORS
Asia Illustrations Collection and Award, Shanghai
· DEC 2018 - WINNER; LISTED 50 MALAYSIA ARTIST ILLUSTRATORS
Asia Illustrations Collection and Award, Taiwan
· OCT 2016 - FINALIST, TOP 4
Art Battle – Asia's First Speed Art Competition, Kuala Lumpur
· JUNE 2016 - HONORABLE MENTION
Asia Illustrators Collection, Shanghai
· MAY 2010 - FINALIST, TOP 5
YayArt Community Awards (web), United States
· AUG 2005 – WINNER, DAILY DEVIATION AWARD
Deviantart (web) – California, United States
· AUG 2004 - WINNER, STYLISH DESIGNER AWARD
noradesigns.net (web) – Cambridge, United Kingdom
· AUG 2002 - WINNER, HIGHEST BID PAINTING
NOKIA Absolutely Absorbing Art Contest – KLCC, Kuala Lumpur